Only customers who are on an active membership (EFT) can freeze or unfreeze their membership.If the customer is a WALKIN MEMBER as shown below, they cannot freeze/unfreeze account.
FREEZING AN ACCOUNT
Go to the Account Changes menu to access the Freeze/Unfreeze option.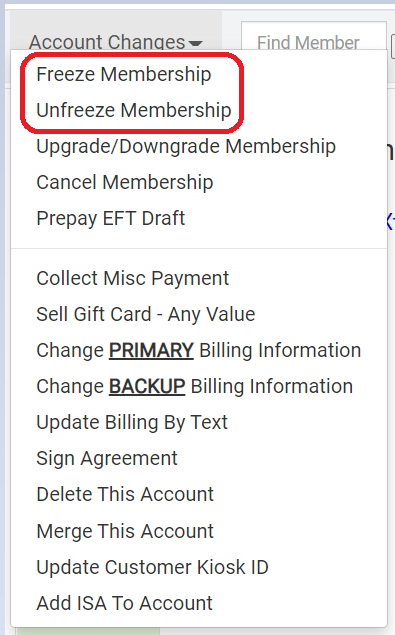 Freeze in Tan-Link always starts a day before draft, and ends a day before draft.
Warning: Setting a freeze or unfreeze date to be the same as the draft date will cause the accounts to bill incorrectly.
On the Freeze window, select the start date and how many months the customer would like the account frozen. The freeze start date and then the new draft date will be shown below. Verify the information and click on Freeze Account, then continue the processing of the freeze through checkout.
If your salon charges a freeze fee each month, that fee will be charged instead of the full draft amount during the freeze period and regular billing amount will be charged on the Next Draft Date.
UNFREEZE AN ACCOUNT
From the Account Changes menu, select Unfreeze Membership.
The amount shown is automatically prorated based on the customer's draft date and draft amount as shown below. Therefore if a customer unfreezes mid-draft, they will be required to pay a prorated amount for the remaining number of days left in that draft cycle. Continue with the unfreeze and complete checkout.