On sign up with Tan-Link, your site will be assigned a 10-digit number with a local area code. Once the number is set up, your site will have texting features on your account.
As customers send a text, the text bubble on the top of the navigation bar will change to indicate new texts have come in. From this screen you can respond to the customer's text or you can go to the customer's account and send the text from there (under their name, next to cell phone number). Please note that a customer MUST have a number in the Cell Phone box for this option to appear.
There are multiple text features which can be enabled and configured.
All of the options listed below require the basic texting package on your account. For each location with SMS enabled, a quantity of 500 texts can be sent in a month. Any text overages will be invoiced and billed the following month to the billing on file.
Automatic Past Due: These texts will go out any day there is a hard decline on an EFT, EFT redraft or Autobill. The system will automatically generate a secure link for the customer to not only pay the past due but also to update primary and/or backup billing.

You can change the automatic past due message by going to General Settings > Search > Under heading, search Past Due SMS Message.
New Customer Text: These texts will go out the day after a customer has signed up.

You can change the new customer message by going to General Settings > Search > Under heading, search for New Customer SMS Message.


Google/Yelp/Facebook Review Texts: These can be setup in General Settings and sent upon request from the customer account or the customer text line.


Birthday Text: These texts go out on the customer's birthday. You can adjust the number of days before the birthday the text goes out and the message that goes out.

You can change the birthday message by going to General Settings > Search

> Under

heading

, search for

Birthday SMS Text

There is also a feature for sending Birthday Email. You could search for Birthday Email in General Settings.


Package Expiration Reminder: These can go out to customers with time based packages that are expiring. You can set the number of days before the expiration the message is sent out.


Appointment Reminders: These can be set up to send 24 hours and 2 hours before the appointment.


EFT Unfreeze Reminder: This can be setup to send a text to the customer 7 days prior to the EFT coming off a freeze.


Sell By Text: Send a customer a secure direct link to purchase items in the online store.

To send a link, go to the customer's account > MORE DETAILS > SELL by Text: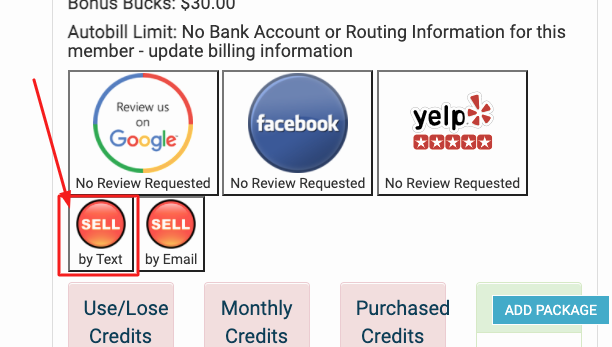 Enter the message > Select the product by choosing on the left drop-down and a package by choosing from the right drop-down > Click on SEND LINK.
First Time EFT Sale Text: This text is sent out the first time this EFT has been sold to this customer. This text can include short details like what the package includes, or perhaps a link for additional products or services that go along with this EFT.


First Time Equipment Use Text: This text is sent out when a customer uses a service for the very first time. It can be used to give them further instructions for maintaining a tan or aftercare on a service, or to send links to upgrades or products associated with that equipment.


Special Equipment Text: If you have special rooms where you want to inform customers on first use, you can use this option. For example, if your rooms have Alexa music or special services, you can text the customer a special message 2 minutes after they are checked-in. The message is sent only the first time the customer uses that room.


Text Templates: Allows the ability to set up various different SMS templates for common responses used when replying to customers. It allows ease of access and saves time when replying to customers. It Can be used to handle a variety of common things such as freeze, cancellations, sales, inquiries, and complaints.

To View/Edit the text templates, go to Management > Edit SMS Templates


Deal Blaster: Send Targeted texts to customer based on their profile of purchase and service history. This must be enabled by support.
NOTE: To view messages that were sent out, go to Management > View SMS Logs > Search > Enter your search parameters.
Tan-Link can auto respond to customers for the following when they text into your number. Their phone number is used to look up the account.
#lasttan - This will report the last time they tanned in your salon
#tannow - You can respond to your customer automatically by selecting a keyword that you can change as needed. When that keyword is texted in, the customer receives a response possibly with the link to purchase items from the Tan-Link online store.
#tans - Let customers find out what sessions are left on their account by texting this keyword to your number.
Staff Texting
There is a special number that can be texted to receive information back from thesystem for internal use. Please contact Support for the number for your site.
SHIFT REMINDER - If using the built-in schedule, this will let your staff know when their next shift is scheduled. A text message will be sent out to a staff at 6pm, a day prior to the his/her scheduled shift.

You could see if a shift reminder was send by going too Management > View SMS Logs > Search > Under message, Shift Reminder:
CHECKIN REMINDER - The check in reminder is sent to the staff that is assigned in the opening shift. You could set the number of minutes when the checking reminder will be send out by contacting support.

You could see if a shift reminder was send by going too Management > View SMS Logs > Search > Under message, Checkin Reminder:
The staff needs to reply "checkin" for Tan-link to confirm that they have checked in. If no message was received, a text message will be sent to the Manager.
Note: If the opening staff is a manager, a check in text message won't be sent. This only applies to regular staff.
Shift Login Text: Receive a text when the employee logs into the system.
COMMISSION - Will report this months bonus to the employee texting in including tips.
Chat2Text
This allows you to receive a message from the chat via text and to carry on a conversation with your staff without ever having to log into your site. This is set up based on a person's first name name being mentioned in the internal chat, or if entered into General Settings it will send a text if there is new activity on chat. The first name entered under Update Staff must be the same name the employee goes by, or the text will NOT be received. This is a great way to handle any customer issues professionally, while the customer is in the store.
Chat Emojis
On the chat box, the following will produce emojies:
:)
(:
:(
):
=)
:'(
:D
:-D
:DD
:P
:-P
:-@
:@
8-)
8)
$$$
#gogirl
#tan
#bravo
#dance
#roll
#fail
#shootme
#shooting
#yousuck
#gigem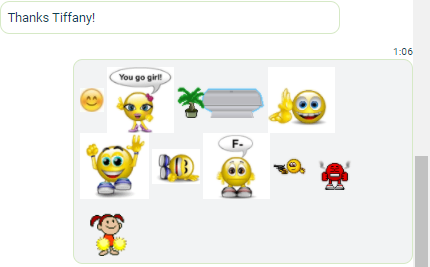 Picture Messaging
Picture messaging can be used where staff can take pictures of certain things/checklist items and text it to your system to be viewed/reviewed by a Manager or Admin. This is useful in combination with checklists where you may require staff to perform an action and take a picture to send to you.
All texts are counted towards your allowance of texts, incoming and outgoing whether they deliver or not. MMS texting must be enabled for the Picture Messaging above and is an additional $10/month.