To Upgrade or Downgrade an EFT Membership, Go to the Customer Account >Then go to Account Changes > Upgrade/Downgrade Memberships.
Upgrade/Downgrade Memberships will let you chose from the list of memberships, which will allow you to upgrade or downgrade an existing membership on the customers account.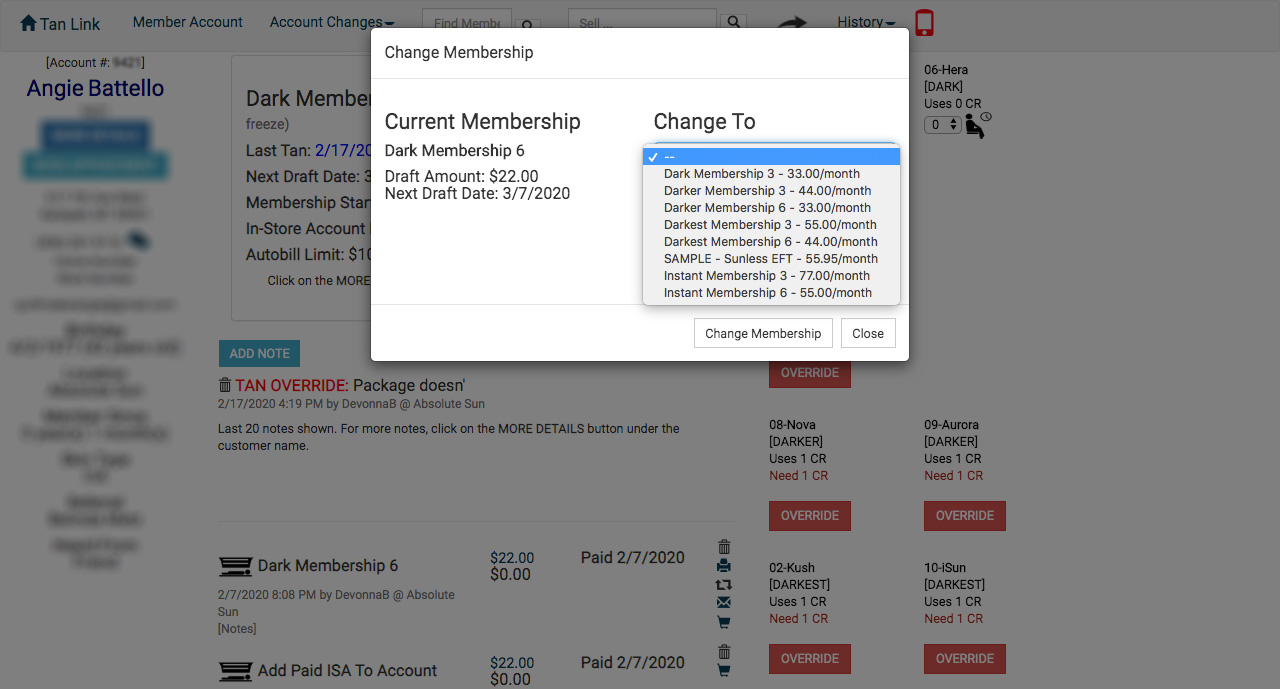 Under "Change To Field" on the top right of the pop up, the new membership will be selected from the drop down option. Once the new membership type is selected, The Effective Date needs to be selected from the Effective Date drop-down.
If the customer is upgrading to a higher-priced membership "Effective Today", they will be required to pay a prorate and this amount due will show under Prorated Amount Due Now.
For example, in the case of an Upgrade from Platinum Sun and Spa at $52.00/month to Titanium at $80.95/month, based on the draft date, the prorated amount will be calculated and the customer will be required to pay $13.51 on the date of the change.
If the customer does not desire to pay anything that day, a future draft date would be selected from the drop-down options. Once the proper options have been selected, click on CHANGE MEMBERSHIP.
Selecting the proper Effective Date is VERY important when it comes to Downgrading a membership or if switching from UV to sunless or vice versa. It the AS OF TODAY option is selected, then the services available will change IMMEDIATELY. If a customer has paid for a higher access level, they will want to keep that access level until the end of that billing cycle.
In the case of a Downgrade (lower amount membership ),the customer gets the benefit of both the existing and the new downgraded membership, as long as a FUTURE draft date is selected. If a future draft date is selected for the downgrade, the customer will be moved to the downgraded membership based on the chosen effective date. This way, the customer gets the benefit of the membership they currently have, until the selected effective date, and is shifted to the downgraded membership later on.