The Tan-Link Call Center allows your selected staff to view all incoming calls to the Salon, see whether it is a new or existing customer, see what type of membership they have, and see whether they have a Past Due Amount before they accept the call.
Any time a call comes in, the call will be visible both on the main screen and on the customer screen.
You can click on the account to open and view the details. While you view the customer's account, the customer will be on hold listening to hold music.
Once you are ready to accept the call, click on the the Info button and that will provide you more details on the call as well as allow you to accept the call at the number listed on your profile, or at your store number.
You will see the customer's account name on top, and their caller ID information and phone number below it.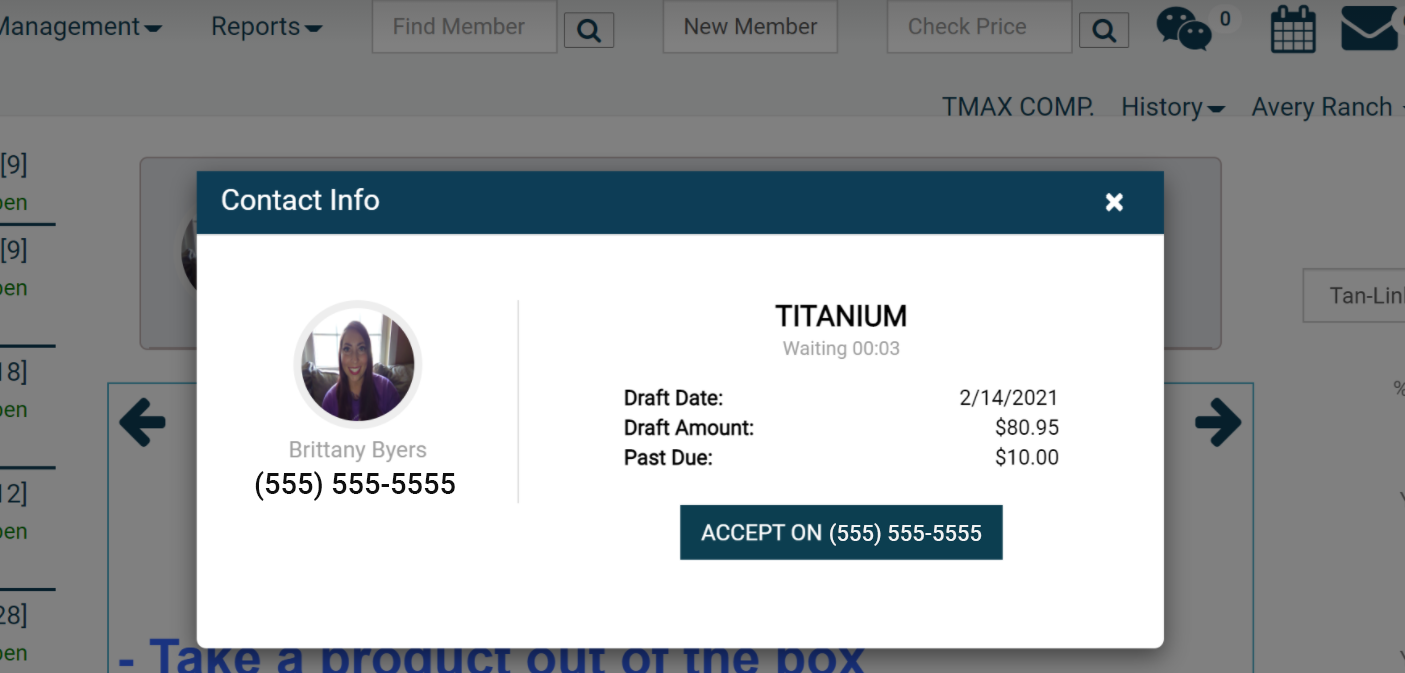 Setup of the Call Center
All menu items for the Call Center are under Communications >Call Center
How to set up a cell phone to accept a call
Any number that you want to receive a call on must be verified first either by receiving and confirming a text, or receiving a verification call.
Go to Staff > Call Center > Verify Number By Text or Verify Number By Call. You only need to verify one way or the other.
For text based verification, the employee must log into their account and verify.
For call based verification, any number can be verified.
How to view and record calls
Calls are automatically recorded.
For existing customers, the call will appear in their order history as shown below and you can listen to the recording using the microphone icon.
All call history can be searched from Reports > Other Reports > Call Recording Log by date. The report can be exported if needed.
Frequently Asked Questions
Q. How are the calls billed?
A. Calls are billed on a per-minute basis rounded to the next minute for each 'connection' on the call.
For example, a 4:30 minute call from customer to staff will be billed for 5 minutes. If a third person listens to or joins the call, that connection will be billed separately for the duration on the same call.
Please contact us for current per minute pricing. Your call usage can be viewed at any time under Reports > Other Reports > Call Recording Log and will be charged automatically on the 3rd day of the month following usage.
Q. How to Join or Listen to a call
A. Listen allows you to listen to an ongoing call without interacting with anyone on the call. Join allows you to join an ongoing call and conference in.
In General Settings, search for the option 'call center' to find all options related to the Call Center.
Set these two options Call Center: List Of Employees For Listen and Call Center: List Of Employees For Join and add any login IDs in a comma separated list here.
When these employees are logged in, they will have the option to Listen to an ongoing call without joining the call, or Join where you will be conferenced in to the existing call.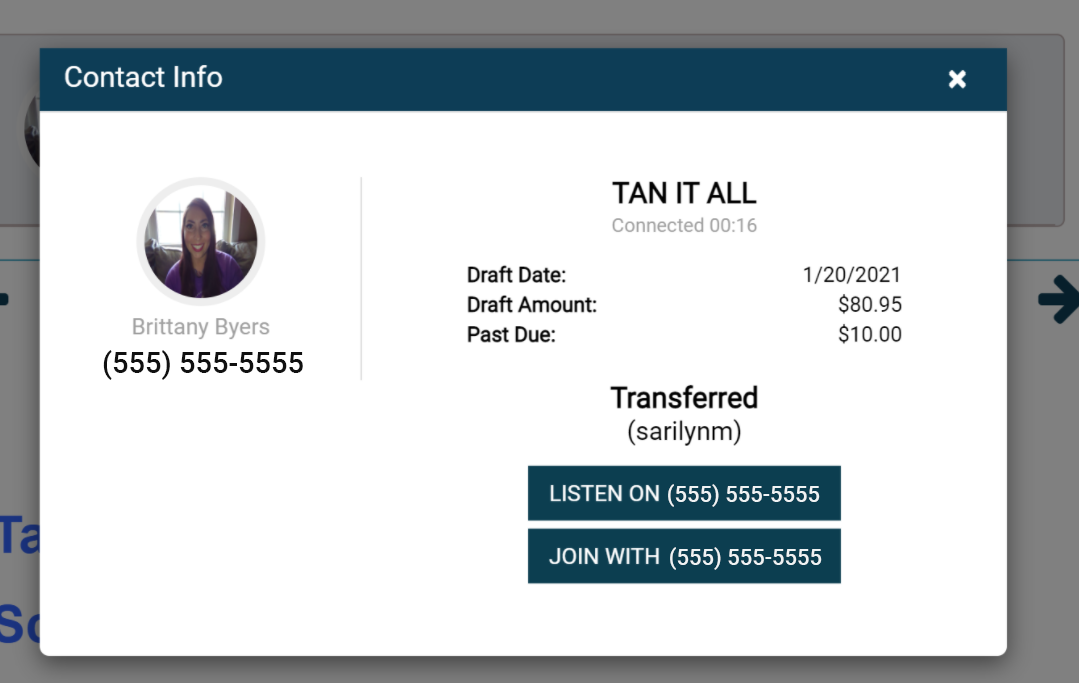 Q. How long are call recordings stored?
A. Calls will be stored for some period of time (minimum 90 days) from the date of the call. Any recording can be downloaded and stored on your computer indefinitely. Calls can be stored for a longer period of time for additional per minute charges.
Q. Who can listen to the recordings?
A. By default only Admins can listen to recorded calls. This is adjustable.
Q. What number will the customer call?
A. This uses your existing texting number for calls, so the customers will be able to both text and call on the number provided to you.


Q. What will happen to unanswered calls?
A. Any incoming call that you receive will keep ringing for 10 minutes to allow staff to answer it once they complete another call or get to the phone.

Go to General Settings to change the number of minutes for a call to remain unanswered before forwarding. Search Call Center: Minutes Until Call Forwarding
This option will be setting minutes, and the minimum setting is 10.
You can decide if unanswered calls are forwarded or sent to voicemail.
Go to Management> Call Center> Edit Call Center Digits.
Select what will happen to those calls in the UNANSWERED option.
If Forward To is selected, you will need to enter the Login ID for the person who will receive unanswered calls in the next field.
Q. What type of phone systems can be used?
A. Most phone companies allow a number to be automatically forwarded to another number. In that case, you can forward all incoming calls to your TL texting number. Another option is to simply provide your customers with the texting number and change your salon number to the TL number.
If a call is forwarded from your main number to the TL number, additional charges may apply from your original phone carrier. Check with them how call forwarding works with them.
To avoid such charges, it's best to use the TL number directly.
You can also use most SIP or VOIP phones. We recommend the Cisco SPA 303 phone, but, any good phone can be used. **Links to New, Renewed and Wireless recommended phones can be found here: https://tan-link.zendesk.com/hc/en-us/articles/360030279971-Hardware-Setup-Recommended-for-Tan-LinkHardware Guide
Q. How can I upload or record my own own greeting?
A. You can upload or record your greeting from Management > Call Center > Upload Main Greeting, Upload Voicemail Greeting, Record Main Greeting and Record Voicemail Greeting.
The new recording will be emailed to you (if setup under the general settings option). You can store this recording for future use if you need to go back and forth between different recordings.
Q. What happens to incoming calls when the business is closed?
A. You can specify what happens during any time of the day and week a call is received.
Go to Management > Edit Call Center Schedule
For each day, if the call falls within the time window specified here, then the action listed next to it will take place.
For example, if on Monday between 9:00 am and 9:00 pm you want incoming calls to come into the Tan-Link Dashboard to be answered by any employees enabled to receive calls, then set those times for Monday using 24 hour time.
All other times not listed will automatically play the voicemail recording and will forward the voicemail to you by email.
You can also specify other actions to take place here.
If you choose Forward To and specify a Login ID in the destination box, the call will automatically redirect to the number on that employees profile.

Q. How can I get customers to press a digit to redirect a call?
A. Go to Management > Edit Call Center Digits
Here you can specify what happens when a digit is pressed during the main greeting.
You can specify Tan-Link Dashboard which brings the call to the dashboard to answer.
You can Play Recording and then select the recording file from your computer (.wav file is accepted), it will play that recording and then go back to the main recording so the caller can select a different option.
You can Send To Voicemail or Forward To to forward the call to an employee when a certain digit is pressed.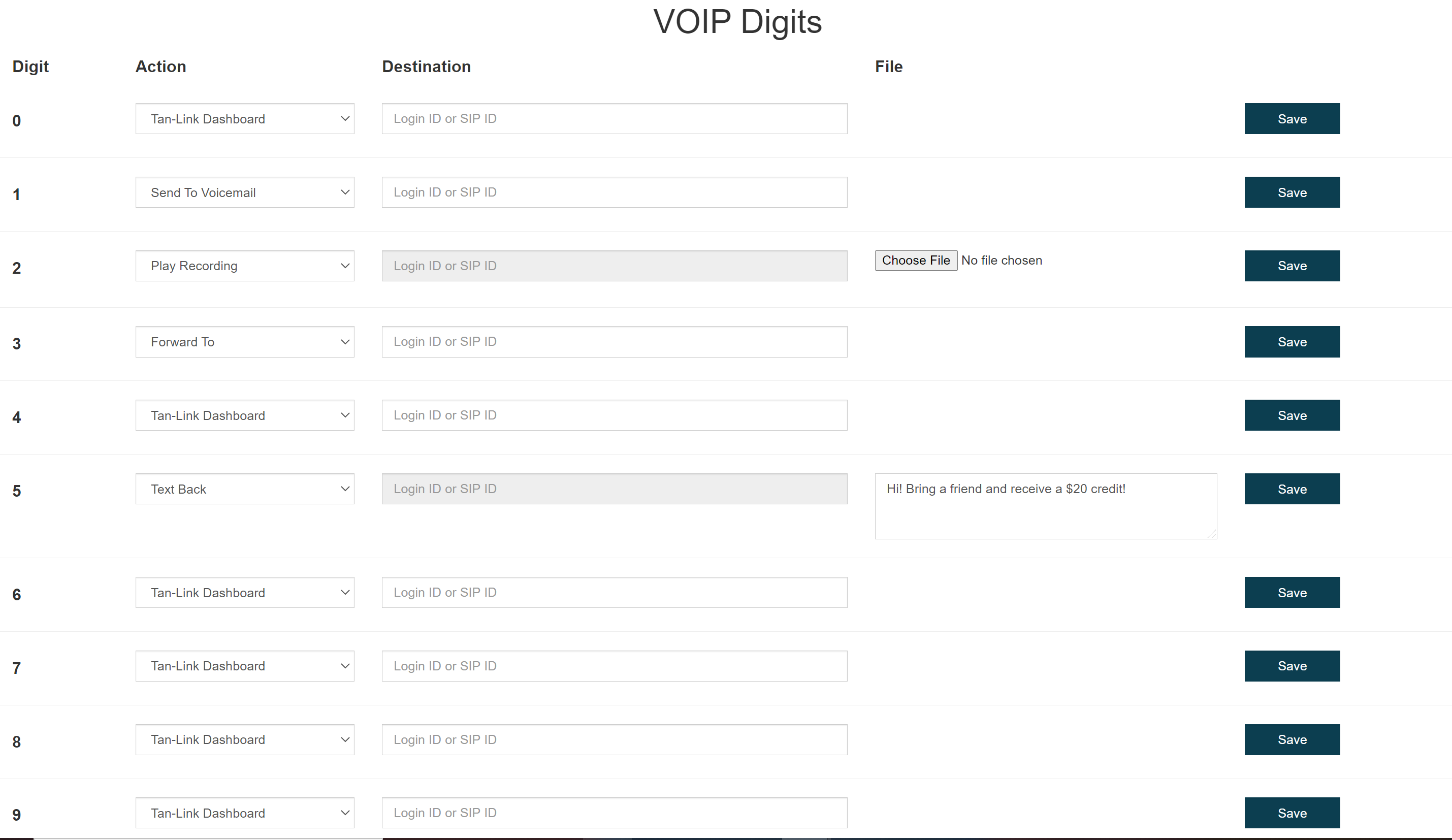 Q. Can internet based phones (called SIP or VOIP phones) be used in this setup?
A. Yes, you can forward incoming calls to any SIP based phone. You will need the SIP address for the phone which looks like an email address and that can be setup in general settings. The SIP/VOIP phones allow each store/phone to call each other.
Q. Can I make outbound calls using my Tan-Link number?
A. Yes, using an app like Zoiper or using a voip phone, you can set it up to make outbound calls from your Tan-Link number. These calls are recorded as well.