Tan-Link allows the use of both pre-numbered Gift Cards and paper gift certificates which the system can apply numbers to. These can be sold in-store or online and also used for promos. You are also able to manually add or edit gift cards, allowing you to carry over your gift card information from previous software to be recognized as a form of payment in Tan-Link.
To sell a gift card through the Online Shop, you will need to have gift cards of specific denominations set up as products.
This product entry will need to be set to sell online
Once this item is available online, a client will be able to purchase a gift card online. If you would like to be notified by Tan-Link of online purchases, contact support.
If you would like to offer a discount/promo code on the gift card, contact support so that this option can be enabled.
Tan-Link also allows the creation of custom gift card codes, including using pre-generated codes from physical gift cards that can be scanned into the system.
Tan-Link recommends the use of gift cards with the following specifications:
Magnetic stripe
Standard, 1 track variable data
Tan-Link has partnered with Plastic Printers to help your tanning salon implement a Gift Card program that is unique to your business, brings in new customers, helps your business grow, and accents your branding. Simply fill out the form to get started: https://www.plasticprinters.com/tan-link
When having these cards printed by your preferred printing company, you are able to specify the starting card number without any leading or training data.
To manually add a gift card, go to the Customers> Edit Giftcards option of the navigation bar.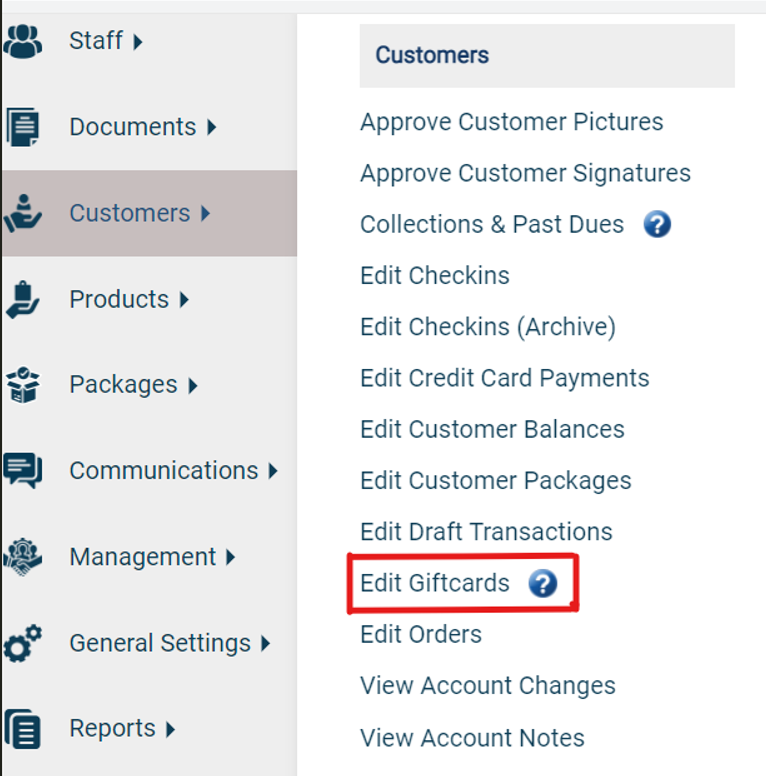 On this screen, you are able to add, edit, or delete existing gift cards.

Click "Add" to add a new gift card.
In the new window that appears you will be able to input the card number and amount of the gift card you are entering in the system as well as, if necessary, an expiration date.