By default, tips are enabled for all Credit Card Transactions in Tan-Link. If you wish to be more selective on how tips are used in your software, you have the following two options:
1. Tips can be completely disabled in your site by contacting Support.
2. Tips may be activated/deactivated by an Admin under Staff>Update Staff per employee. See image.
3. Tips may be activated to be received only when a certain package is sold (i.e. Custom Airbrush, Massage, etc. Contact support regarding this option.
4. Tips can be enabled to ONLY be allowed for a Member. Contact support to enable this option.
Tan-Link cannot support tips on CASH sales, ONLY Credit Card Transactions. If a customer wishes to add a tip on a cash transaction or when a session is being used as part of a package and nothing else is being purchased the following options can be used:
1. Create a .01 cent Walkin package that could be given a search term of "tip" and would be sold to customer to then allow a tip to be applied.
2. Take a Misc Payment of .01 cent and then customer could apply a tip and pay via CC.
When a tip is received, it will show on the daily sales. See below:
As an Admin ONLY you can hover over the CC charge on the customer account and it will show the amount of the tip. See below:
If goals are enabled, then the commission and tips will show as a total on the employees Home Screen when they log in. See below: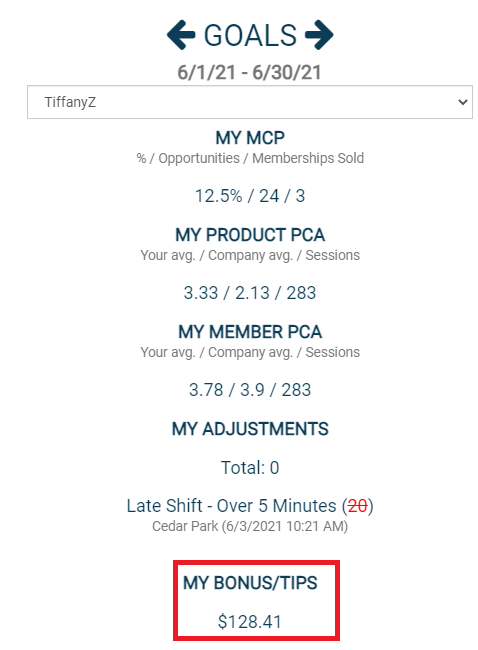 Staff can also go to Staff > Bonus Earned and enter a date range for the month. It will show ONLY the bonus and tips THEY have earned if an employee, but all staff's commission/tips if an Admin.