To review or change details on a customer's account, including payment history, click on the ACCOUNT DETAILS/HISTORY button underneath their name. This will open the a new window with the tabs as shown below.
Membership Details
This is the default tab that will open and displays various settings to view or edit (if an admin). To check/uncheck a box, click on the item itself (not the checkbox). If an Admin, the following can be edited from this tab: location at which customer drafts, turn on/off requirement for customer picture, turn on/off Autobill, edit Autobill amount, disable SMS feature for customer (If customer texts STOP to a text sent to them this will automatically be disabled), edit Next Draft Date and/or Draft amount, remove or edit past due, Edit Freeze Dates, Last tan date, and much more. If set with a security level other than Admin, one will be able to view the Membership Details page only, but, make no changes.


To enter new information, click on the entry itself and type in the new information, then press ENTER to save it. Once all information has been updated, you can click F5 to refresh and verify that everything saved correctly.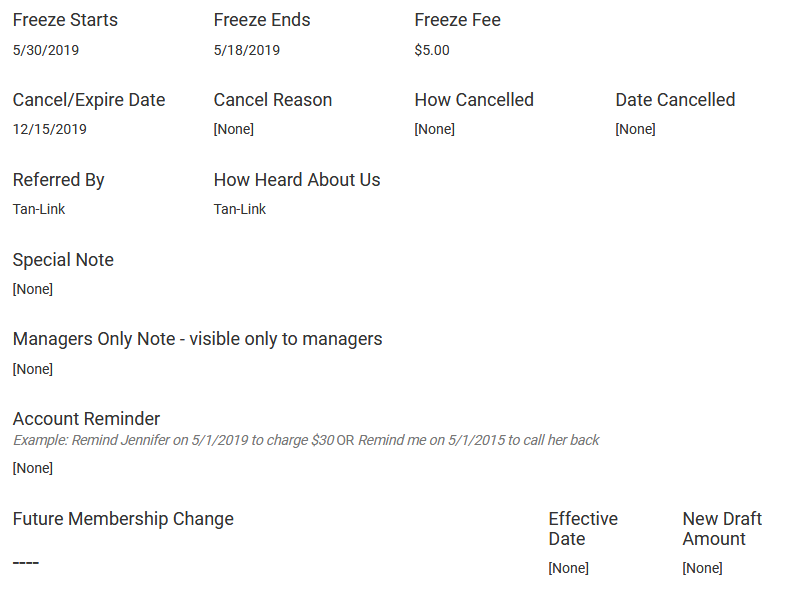 Billing
By clicking on the BILLING tab, the customers Primary and Backup billing methods will show. Only the last four digits of a CC will show along with the expiration date. If an Admin, billing information can be deleted by clicking on the DELETE PRIMARY INFO button if requested by the customer.
Payment History
By clicking on the Payment History tab, the customers monthly drafts will show and any redrafts and Autobills collected along with the redraft date. As you can see, the Status will let you know whether processed via the Primary or backup billing. ALL EFT drafts will appear here. Only in-store charges will appear on the customer's Main Screen.

If a payment is declined, it will show as DECLINED and will be highlighted in yellow.
Account Changes
The Acct Changes tab will show you any system changes on a customer account including adding of loyalty rewards or ISA, adding of any decline fees, moving forward of draft date, some details from the cancel order, etc. It will also log any and all manual changes made by an employee, the date of the change, the name of the employee whom performed the change, and a note stating the reason for a change. This should be the first place one looks, when concerned with any issues that may occur with a customer's account for investigative purposes or to understand why something may have happened I.E. drafted after being cancelled, drafted full amount instead of freeze fee, etc.
Sticky Notes
Sticky Notes is where one can go to view any internal correspondence via sticky that may have taken place on a customer's account. When an employee uses the FORWARDING button at the top of a customer's account to send a message relating to that account, they will all show here. You will be able to see whom sent from, the date, and the message that was sent.